Best Credit Cards From Our Partners
These are some of the most popular credit cards from our partners. Credit Karma compares credit cards across all of our credit card partners to give you up-to-date recommendations for some of our most popular offers. Plus, you can review our data on prior approved credit scores and credit limits to help you in your decision Search All Credit Cards
Cards for Poor Credit

(549 or Lower)

With poor credit, your options for credit cards are somewhat limited. Most companies won't provide a credit line without a deposit and virtually all credit cards are going to charge monthly fees. However, if used responsibly, these cards may be the best way to start establishing or rebuilding your credit. Below are our favorite cards for poor credit offered by our credit card partners.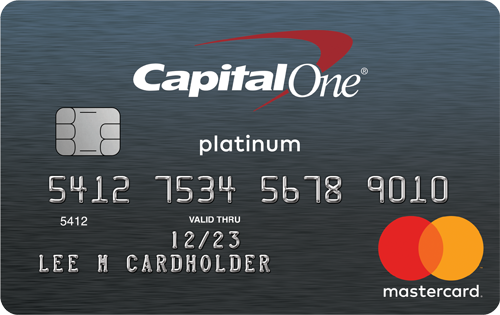 Apply Now
Apply by phone:
1-866-960-8706
Unlike a prepaid card, it builds credit when used responsibly, with regular reporting to the 3 major credit bureaus
Your minimum security deposit gets you a $200 credit line
You may qualify for a credit line increase based on your payment history and creditworthiness-no additional deposit required
Easily manage your account 24/7 with online access, by phone or using our mobile app
It's a credit card-accepted at millions of locations worldwide
---
Pros:
Low annual fee
No processing or application fees
Cons:
Capital One® Secured MasterCard® helps you build credit without breaking the bank. With no set up or processing fees and a hard-to-beat annual fee of $29, Capital One® Secured MasterCard® reports to all 3 major credit bureaus so you can take steps to build your credit history.
Additionally, Capital One provides credit resources, like access to your credit score, to help you monitor and better your overall credit health. After continued smart and responsible credit use, Capital One rewards eligible cardholders with a credit line increase without additional security deposits. Initial security deposit requirements start at $49, $99, or $200, and can secure you a credit line up to $3,000.
A secured card is one of the best ways to turn around poor credit or establish good credit history, and Capital One® Secured MasterCard® is just the right tool to help.
---
Credit Score Approval Data ‡

552

Average

credit score approved for this card ‡

466

Typical Low

credit score approved for this card ‡
Nationwide Program though not yet available in NY, IA, AR, or WI
Receive Your Card More Quickly with New Expedited Processing Option
No Credit History or Minimum Credit Score Required for Approval
Good for Car Rental, Hotels; Anywhere Credit Cards are Accepted!
Monthly Reporting to all 3 Major Credit Bureaus to Establish Credit History
Credit Line Secured by Your Fully-Refundable Deposit of $300 -- $2,000 Submitted with Application
Just Pay Off Your Balance and Receive Your Deposit Back at Any Time
24/7 Online Access to Your Account
---
Pros:
Reports to all 3 credit bureaus
No minimum score required for approval
Cons:
Not available in all U.S. states
Rebuilding or establishing credit can be difficult at first. That's why the First Progress Platinum Select MasterCard® Secured Card tries to make the process as simple as possible with an easy online application and no credit history or minimum credit score required for approval.
The First Progress Platinum Select MasterCard® Secured Card reports monthly to all three major credit bureaus, and offers lines of credit ranging from $300 up to $2,000 with a deposit. This card is good for car rentals, hotels and is accepted anywhere credit cards are accepted.
With peace of mind that your deposit is held at an FDIC-insured bank, the First Progress Platinum Select MasterCard® Secured Card is a full-feature card that can lead the way to establishing good credit.
---
Credit Score Approval Data ‡

521

Average

credit score approved for this card ‡

432

Typical Low

credit score approved for this card ‡
* See the online provider's credit card application for details about terms and conditions. Reasonable efforts are made to maintain accurate information. However all credit card information is presented without warranty. When you click on the "Apply Now" button, you can review the credit card terms and conditions on the provider's website.
† These Approval Odds represent Credit Karma's estimation of how likely you are to be approved for a product based on a comparison of your profile with data about Credit Karma members who have been approved for the product in the past (if available). There is no guarantee that you will be approved by the lender or that credit will be extended to you.
‡ Average score refers to the arithmetic mean and typical low score to the 5th percentile of, in each case, available VantageScore 3.0 credit scores provided by TransUnion of Credit Karma members who were approved for this product from September 2014 through February 2015. Average and typical approved scores are provided as guidelines only and approval is not guaranteed. You can learn more about credit card approval through our in-depth article.