How Credit Karma Works
Credit Karma offers a new way to track your credit score and a unique way to benefit from it. A credit score is one of the most important components of a consumer's financial profile. We believe free access to one's credit score is a fundamental consumer right.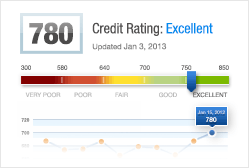 Get your 100% Free Credit Score - No Credit Card Required
For the first time, you can get a truly free credit score with no hidden costs or obligations. That's right, no credit card is required and there are no strings attached. Return as often as you like and use our service to track your credit file and stay informed.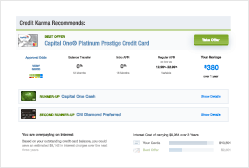 Save Money with our Personalized Debt Management Recommendations
We help you manage your debt and finances by finding you the best savings options for your credit cards, mortgage, auto loans, and more!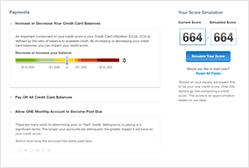 Track & Optimize your Score with our Free Tools & Calculators
Now you can quickly and easily track your credit score, credit attributes, and debt over time from a single source. Use our free interactive tools and simulators to help you learn how to anticipate changes in your credit score.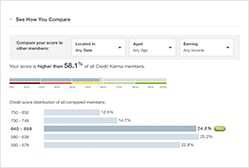 Actively Manage both your Credit and Financial Health
Explore the factors that impact your credit health to learn more about your credit score. See how the various items on your credit report can affect your credit score and compare yourself to other Credit Karma members.
Credit Karma is a completely free pro-consumer service dedicated to demystifying the credit landscape. With our credit simulators, free credit scores, credit advice, and credit score comparisons, our goal is to empower consumers to more actively manage their credit and their financial health.
Already a member? Log In to your account.
Ready to Get Started?
Joining Credit Karma is fast, easy, and 100% free!
Access to your FREE Credit Score anytime
Exclusive savings based on your score
Tools to track your credit score
Valuable credit and finance content
Calculate and research to find best rates
What Our Members Say...
"I love being able to get my credit score free every month. I can check how I'm doing to make sure nothing is out of whack. Thanks Credit Karma!"
- Susan, NJ
"Credit Karma helped me save over $3,000 on my credit card debt. It was quick and easy!"
- James, MA
"My credit score has gone up 43 points in a single month after following some of their advice!"
- Leslie, CA