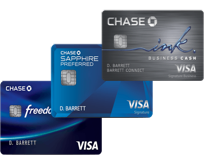 You know you can trust a name like Chase to stand behind your card with leading edge security and outstanding customer service. Chase offers a wide range of choices in credit cards including: VISA® or MasterCard®, rewards credit cards, cash back credit cards, low introductory APR credit cards, no annual fee credit cards, balance transfer credit cards, travel credit cards, business credit cards and student credit cards. Here are some featured cards from Credit Karma's partner, Chase.
* See the online Provider's credit card application for details about terms and conditions. Reasonable efforts are made to maintain accurate information. However all credit card information is presented without warranty. When you click on the "Apply Now" button, you can review the credit card terms and conditions on the provider's website.
† The Minimum Credit Needed provided by lenders represents their estimate of the minimum level of credit required to be eligible for the product. There is no guarantee that you will be approved by the lender or that credit will be extended to you.