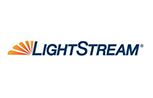 Apr 20, 2017
Quick and easy
Very easy to apply and maintain. Great service.
more ...

Apr 25, 2017
Fast, cheap, easy to use
I applied for a loan to finance the purchase of a used car. I didn't want to go through the hassle of putting a lien on the car. I expected a slightly higher rate since the loan would be unsecured. Boy, was I surprised. The rate was under 3%, closed within 24 hours and I had my funds a day later. Setting up the payments was easy and there is no penalty for pre-payment. I plan on using Lightstream again and again for my borrowing needs.
more ...