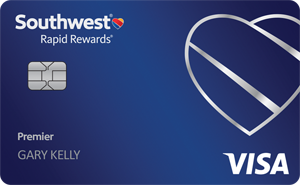 Southwest Airlines Rapid Rewards® Premier Credit Card
Get 25,000 points after you spend $1,000 on purchases in the first 3 months of opening your account.
Get 6,000 points after your Cardmember Anniversary.
Earn 2 points per $1 spent on Southwest Airlines® purchases made directly with the airline and on Rapid Rewards Hotel and Car Rental Partner purchases.
Earn 1 point per $1 spent on all other purchases.
Redeem points for gift cards, car rentals, cruises, hotel stays and international flights to over 800 destinations on 50+ global carriers.
No foreign transaction fees.
---
Average Approved Score‡
Purchase Intro APR
Purchase Regular APR
Balance Transfer Intro APR
Balance Transfer Regular APR

693

Typical Low‡: 608

Typical High‡: 785

&nbsp
&nbsp

N/A

15.99%*

N/A

15.99%*

&nbsp

Variable

&nbsp

Variable
Click here for Additional Details
(Will launch in a new browser window)
* See the online Provider's credit card application for details about terms and conditions. Reasonable efforts are made to maintain accurate information. However all credit card information is presented without warranty. When you click on the "Apply Now" button, you can review the credit card terms and conditions on the provider's website.
| | |
| --- | --- |
| Cash Advance Rate | See Terms |
| Annual Fee | $99 |
| Late Fee | See Terms |
| Cash Advance Fee | 5%, Min; $10 |
| Balance Transfer Fee | 3%, Min: $5 |
Saving Details

Year 1

Year 2

Year 3

Balance Transfer Cost

$0

$0

$0

Interest Savings on Transferred Balance

$0

$0

$0

Interest Savings on New Purchases

$0

$0

$0

Value of Rewards on New Purchases

$465

$465

$465

Value of Bonus Points

$250

$0

$0

Annual & Application Fees

‑$99

‑$99

‑$99

Savings

Total Annual Savings

$616

$366

$366

Total Savings over 3 Years

$1,348
Credit Card Usage Profile
Balance to Transfer:

$2,500

Monthly Paydown:

$600
Earn Rewards
$1,000

Monthly Spending

$45

Gas

$75

Groceries

$20

Travel

$50

Restaurants

$50

Entertainment

$760

Other
Establish or Build My Credit
Card Details
Annual Fee:

$99

Minimum Deposit:

$0
Finance a Large Purchase
Initial Purchase Amount:

$3,000

Monthly Paydown:

$60
Note: Sample data consists of Credit Karma members who hold this card.
Credit Score
Credit Limit
Current Balance
Credit Limit Utilized
60+ Days Past Due Status
Age of Cardholder
Sample Size: 322
Data Created: February 02, 2015
---
80 Cardholder Reviews
The following information and reviews are brought to you by Credit Karma and/or its users. Banks, issuers, and credit card companies do not endorse or guarantee, and are not responsible for this content.
Most Recent Reviews
See all 80 Reviews of Southwest Airlines Rapid Rewards® Premier Credit Card
† These Approval Odds represent Credit Karma's estimation of how likely you are to be approved for a product based on a comparison of your profile with data about Credit Karma members who have been approved for the product in the past (if available). There is no guarantee that you will be approved by the lender or that credit will be extended to you.
‡ Average score refers to the arithmetic mean, typical low score to the 5th percentile and typical high score to the 95th percentile of, in each case, available VantageScore 3.0 credit scores provided by TransUnion of Credit Karma members who were approved for this product from October 2014 through March 2015. Average and typical approved scores are provided as guidelines only and approval is not guaranteed. You can learn more about credit card approval through our in-depth article.
You Might Also Like
Users who viewed this card also viewed these cards: