How to Improve Your Credit Health
By closely monitoring your score with Credit Karma and disputing errors on your credit report, you could improve your credit health. Paying down debt and building a history of on-time payments could go a long way to improving your credit health.

Improving your credit health is a worthwhile process. With a higher score you may enjoy lower interest rates and have an easier time obtaining credit.
The first thing to consider doing to begin improving your credit health is to check Credit Karma to see your credit score, what factors contribute to your score and how you might be able to improve your credit health. You can also use Credit Karma to track your score as it changes over time.
Once you've gotten a general picture of your credit health, consult your free credit report to dive into the details of your financial profile. If you find any errors while reviewing your report, consider disputing those inaccuracies directly with TransUnion.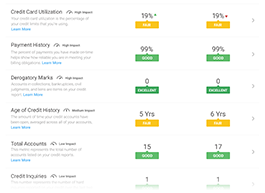 Another good way to begin improving your credit health is to pay down credit card debt to lower your credit card utilization percentage. A low debt-to-credit ratio can have a strong, positive impact on your credit score.
If you've missed credit card or loan payments in the past, you might want to set up automatic reminders on a calendar to make sure you build a history of on-time payments. Your payment history is one of the main contributing factors to your credit score.
Continue to monitor your credit score with Credit Karma. Before you make any major credit decisions, try simulating them with Credit Karma's Credit Score Simulator. You'll have a better sense of how your actions could affect you and how to most effectively improve your credit health.
Register for free right now to see your free credit report and check to see if you have a good credit score. Remember, there are never any hidden fees or obligations with Credit Karma.