Your Credit Scores Should Be Free. And Now They Are.
View your scores and reports anytime. See offers tailored to your credit profile. Get credit alerts to help you spot fraud.
See for yourself
Free credit scores are just the beginning.
With Credit Karma, you get:
Easy-to-read credit reports and personalized score insights

Tools & tips to help you understand your score and take next steps

Free credit monitoring that can help you spot potential identity theft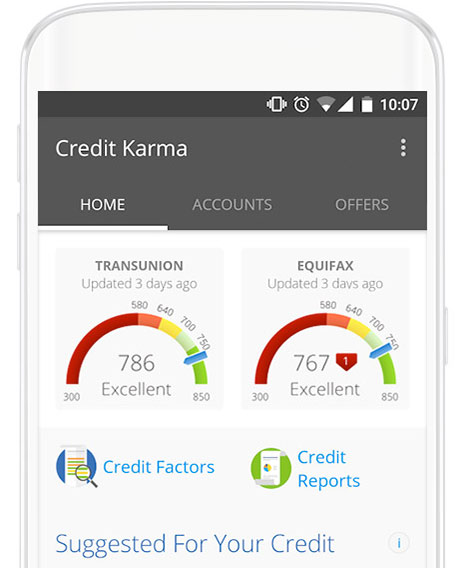 Your credit can work harder for you. We'll show you how.
We show you insights to help you understand your credit and personalized recommendations based on your credit profile.
See for yourself
Your security is a priority.

We treat your data as if it were our own.
Secure connection
We use 128-bit encryption to protect the transmission of your data to our site. This helps prevent others from accessing your personal information.
Certified Privacy Policies
Access to your connected accounts is read-only. You can't transfer any money or pay bills on Credit Karma, which means no one else can, either.
Powerful resources that put you in control
Tools to help you reach your financial goals
A community of over 60 million
In-depth articles and analysis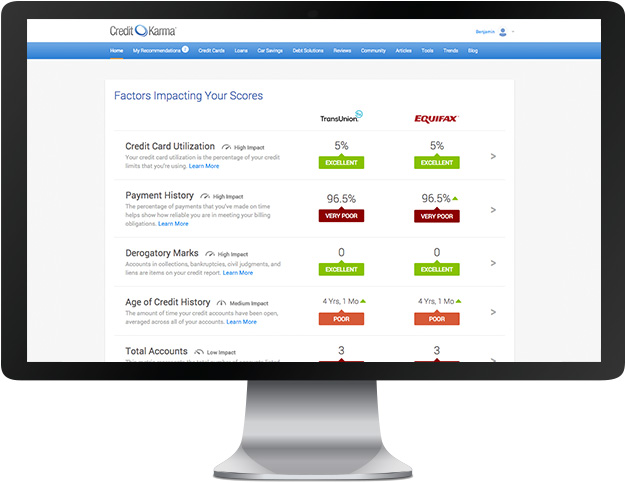 How does Credit Karma work?
Our goal is to help you understand your credit and get more out of it. Along with providing free credit scores, reports and monitoring, we offer insight into what it all means and show you product recommendations, like credit cards and loans, based on your credit profile. Learn More
Checking your credit on Credit Karma won't hurt your score. It only takes about two minutes to sign up, and we'll never ask for your credit card or sell your info to third parties.
To learn more about our business model, check out How We Work.
See for yourself
Screen images simulated