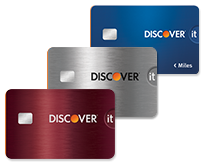 Enjoy the newest benefits from the company ranked among the highest in customer loyalty for 18 years in a row (according to the 2014 Brand Keys Customer Loyalty Engagement Index report). With an exclusive, dedicated number, customers can talk to a real person any time with 100% U.S.-based service. Discover it offers generous cash rewards, like unlimited 1% cash back on credit card purchases automatically. Here are some featured cards from Credit Karma's partner, Discover.
Discover cards are no longer available on Credit Karma at this time
* See the online Provider's credit card application for details about terms and conditions. Reasonable efforts are made to maintain accurate information. However all credit card information is presented without warranty. When you click on the "Apply Now" button, you can review the credit card terms and conditions on the provider's website.
† The Minimum Credit Needed provided by lenders represents their estimate of the minimum level of credit required to be eligible for the product. There is no guarantee that you will be approved by the lender or that credit will be extended to you.